Ayurveda - God's
|
View Details
Withania somnifera

English: Winter Cherry
Hindi: Asagandh
Sanskrit: Ashwagandha
Withania somnifera holds a place in AYUl-veda similar to that of ginseng in Chinese medicine. It is reputed to be capable of imparting long life, youthful vigour and intellectual prowess and is an ingredient of many traditional preparations. It has been used in parts of Africa and is now used increasingly elsewhere, including the USA and Europe. The name ashwagandha comes from the smell of horses, which the root emits, and the botanical suffix somnifera from the use of the plant as a sedative.
Habitat
It is indigenous to India, other Asian countries and parts of Africa and found widely on waste land. It is also cultivated widely for medicinal purposes.
Botanical description
It is an erect, greyish, tomentose undershrub (Platß 68). Leaves are simple, ovate, glabrous and those in the floral region smaller and opposite. The flowers are inconspicuous, greenish or yellow, in axillary or umbellate cymes. Berries are small, globose, orange red when mature, containing seeds which are yellow and reniform.
Parts used
Root, leaf, whole plant.
Traditional and modern use
It is known best as a rejuvenative herb, particularly for males, as it strengthens the muscles, bone marrow and semen. The plant is used as an abortifacient, anodyne, antiasthmatic, bactericide, contraceptive, diuretic, sedative, tonic and antiinflammatory and in cold, dropsy, anaemia, fever, hypertension and lumbago. The fresh fruits are used as an antiasthma tic, sedative and emetic; the dried fruits as a carminative, depurative and in dyspepsia. The leaves are used as a febrifuge and tonic.
Ethnoveterinary usage
The plant is used in cough, dropsy, rheumatism, scabies and sores. The roots are used to promote milk flow in ruminants.
Major chemical constituents
Steroid lactones
Withanolides A- Y, dehydrowithanolide- R, withasomniferin - A, withasomidienone, withasomniferols A-C, withaferin A, 27­deoxy-14a-hydroxywithaferin A, withanone, witha-2,24-dienolide and other derivatives have been isolated from the root and leaf.
Phytosterols
Sitoindosides VII-X (acylsteryl-glucosides), ß-sitosteroI.
Alkaloids
Ashwagandhine, ashwaghandhinine, cuscohygrine, anahygrine, tropine, pseudotropine, anaferine, dl-isopelletierine, withasomine, visamine, somniferine, somniferinine, withanine, withaninine, pseudowithaninine and solasodine have been isolated.
Medicinal and pharmacological activities
Memory enhancement: The sitoindosides VII-X and withaferinA, isolated from the aqueous extract ofthe root, were investigated for nootropic activity in an experimental model of Alzheimer's disease. The syndrome was induced by ibotenic acid and cognitive deficits were assessed by the attenuation of a learned active avoidance task and a decrease in acetylcholine concentration, choline acetyltransferase activity and muscarinic cholinergic receptor (MCR) binding. The active principles of Withania somnifera were able to reverse various cognitive deficits and cholinotoxic effects after 2 weeks of treatment.
Adaptogenic and antistress activity: An extract of the roots of Withania somnifera and equimolecular combination of sitoindosides (VII, VIII and withaferin A) was assessed using a diverse spectrum of stress-inducing paradigms. It exhibited significant activity in widely different stress situations including attenuation of pentylenetetrazol (PTZ)­induced defaecation and urination in a novel environment; reduction in the duration of immobility in the forced swimming-induced immobility test in mice; decreased incidence and severity of restraint stress gastric ulcers in rats; inhibition of time-dependent restraint stress-induced autoanalgesia in rats; and inhibition of the restraint stress effect on the thermic response of morphine in rats. Antistress drugs (adaptogens) appear to have a corticosteroid-sparing effect and are able to protect the organism from unfavourable stress conditions. One of their features is the capacity to depress the central nervous system (CNS). A 50% ethanolic extract of Withania somnifera was evaluated on mouse CNS after injecting a single dose of pentobarbitol. The results demonstrated that the recovery of the righting reflex was sex and dose dependent and the extract had a close synergy with pentobarbitol in depressing the mouse CNS response. A withadienolide derivative and solasodine also showed significant antis tress activity in albino mice and rats and augmented learning acquisition and memory retention in both young and old rats.
Immunomodulatory activity: Withania somnifera exhibited non-specific immunostimulatory activity in various models including oxazolone-induced erythema, the carbon clearance test and Escherichia coli-induced sepsis. The activity of the root extract was studied in three models of mice. Myelosuppression was induced by cyclophosphamide, azathioprine or prednisolone and haematological and serological tests were done to assess the immunomodulatory activity. A significant increase in haemoglobin concentration, red blood cell count, white blood cell count, platelet count and body weight resulting in the prevention of myelosuppression induced by the compounds was observed in all the three animal models used. In another study, the immunomodulatory activity of sitoindosides IX and X was studied in rats and mice. A statistically significant mobilisation and activation of peritoneal macrophages, phagocytosis and increased activity of the lysosomal enzymes secreted by the activated macro phages were observed.
Inhibition of morphine tolerance in mice: Treatment with a root extract inhibited the development of tolerance to the analgesic effect of morphine and inhibited withdrawal 'jumps' (a sign of opiate dependence). Withania somnifera has a wide spectrum of psychotropic and antistress effects and because it is non-analgesic per se, it may have a potential role in treating opiate withdrawal syndrome.
Antihypertensive activity: An extract induced a significant decrease in the arterial and diastolic blood pressure in normotensive pentobarbitol anaesthetised dogs.
Antiinflammatory activity: Withania somnifera extract exhibited significant antiinflammatory activity against carrageenan-induced paw oedema in rats, as well as a number of other experimental models.
Antiviral activity: An extract showed a dose­dependent inhibition of spinach mosaic virus.
Hepatoprotective activity: Administration of a herbal preparation containing extracts of Piper longum and Withania somnifera produced marked histopathological improvements in hepatotoxicity induced by antitubercular drugs, indicating that it may have potential as an adjuvant to antitubercular therapy.
Antimicrobial activity: Withaferin A and 3-ß­hydroxy-2,3,-dihydrowithanolide F exhibited antibacterial activity with no major toxicity observed.
Antioxidant activity: The sitoindosides VII-X and withaferin A were studied on rat brain concentrations of superoxide dismutase (SOD), catalase (CAT) and glutathione peroxide (GPX). The efficacy was compared with the effects induced by deprenyl, a known antioxidant. The compounds produced a dose-related increase in SOD, CAT and GPX activity in the frontal cortex and striatum and may explain many of the reported effects of the plant.
Antitumour activity: An ethanolic extract of the dried roots of Withania somnifera showed significant antitumour activity and radiosensitising effects in experimental tumours in vivo, without any noticeable toxicity. Administration of a 75% methanolic extract significantly increased the total white blood cell count in mice and reduced the leucopenia induced by a sublethal dose of y radiation.
Safety profile
A daily dose of 100 mg/kg body weight (=1/12 LDso) for 30 days in rats did not lead to any deaths or changes in peripheral blood constituents. 19 The maximum tolerated dose of a 50% ethanolic extract of the whole plant was 1000 mg/kg in rats and the LOso of a 50% ethanolic extract of the roots was 1000 mg/kg.
Dosage
Ayurvedic properties
Rasa: Tikta (bitter), katu (pungent)
Guna: Laghu (light), snigdha (unctuous)
Veerya: Ushna (hot)
Vipaka: Madhur (sweet)
Dosha: Balances kapha and vata
Ashwagandha Capsules - Herbal Cure for Stress, Anxiety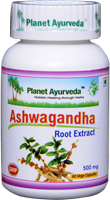 Ashwagandha is Effective in Stress, Anxiety, Palpitations. We are one of the best quality suppliers and manufacturers of Ashwagandha Capsules and Ashwaganda based products.
Popularly known as Indian Ginseng. It gives strength and stamina of a horse. Ashwa literally means Horse. The root is used for medicinal purpose. Ashwagandha or Ashwaganda extract, which we use is one of the best quality extract in the world.
Ashwagandha capsules should be taken in the dosage of 1-2 capsules twice daily.
Read more
Ashwagandha Supplement: Vegetable Capsules
Packs
Retail Price
Sale Price
Order Now
2 Bottles
$33.00
$31.00
3 Bottles
$51.50
$45.00
5 Bottles
$86.00
$67.00
10 Bottles
$169.00
$119.00

No side effects! Free Shipping and Handling Worldwide!