Ayurveda - God's
|
View Details
Herbs to Relieve Stress Naturally
Stress Support - Stress Relieving Herbs-Ayurvedic Medicines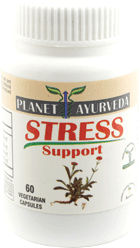 This product has its roots in Ayurveda-ancient herbal healthcare system of India. According to Ayurveda the balance of 3 energies- Vata, Pitta and Kapha (Kinetic, Thermal and Potential energy) in the body is a disease free state whereas their imbalance causes diseases. Continuous stress leads to imbalance of Vata and consequently other energies. The herbs in this product act synergistically to control vitiated Vata", therefore acting on the root cause. It contains the best stress relieving herbs.
Herbs in Stress Support: Stress Support is purely a herbal formulation without any chemicals added into it. The ingredients are frequently used in Ayurvedic system of medicine since 5,000 B.C. without any side effects.
Dosage - 1-2 Capsules twice daily, after meals, with plain water. These capsules are not habit forming and does not induce sleep. These are purely natural, 100 % vegitarian and effective solution of the problem
| | | |
| --- | --- | --- |
| Quantity | Price | BUY NOW |
| 60 Veg Caps | $ 23.95 | |
Ingredients:
| | | | | |
| --- | --- | --- | --- | --- |
| Sr. No. | Herb Used | Latin Name | Part Used | Quantity |
| 1 | Ashwagandha | Withania somnifera | Root | 200 mg |
| 2 | Tagar | Valeriana wallichii | Root | 200 mg |
| 3 | Brahmi | Bacopa monnieril | Whole | 100 mg |
| 4 | Jatamansi | Nordostachyes jatamansi | Whole | 100 mg |
Serving Size- 1 Vegi Cap
Servings Per Container - 60
Each 500 mg Capsule Contains - Best Quality Herbal Extracts 10:1
Dosage - 1- 2 capsules twice daily, with plain water after meals
Side Effects - No Side effects, Can be used with other herbal Supplements, Vitamins or other herbal remedies or natural products.
Ashwagandha (Withania somnifera):
Ashwagandha is also commonly known as 'Indian ginseng'. It is a unique herb with multiple functions. It contains active components like 'Withanolides' and 'Withaferin' which are very beneficial for nervous system. The herb also possesses anti-inflammatory, antitumor, antistress, antioxidant, immunomodulatory, hemopoietic, and rejuvenating properties. It is especially useful in diabetics and blood pressure people as it also controls diabetes and blood pressure. It relieves stress, anxiety and enhances physical and mental performance naturally. This is a wonderful stress relieving herb.
Tagar (Valeriana wallichii):
It is commonly known as 'Valerian' and is very popular herb in the west. It is used in India for its benefits in calming down the nervous system. It relieves stress and anxiety and also fights depression. Tagar is nature's best stress busting herb.
Brahmi (Bacopa monnieri):
The herb 'Brahmi' is used in Ayurveda since ages for loss in memory, lack of concentration, forgetfulness. It increases the retention power as well as recollection. It is very useful in many mental illnesses also. Regular use also helps in stress, anxiety, blood pressure, hallucinations and epilepsy. Regular use of this herb improves mental ability and cognition. Brahmi not only improves memory but also very much useful herbal remedy for stress and anxiety.
Jatamansi (Nordostachyes jatamansi):
This herb is useful in many illnesses like blood pressure and hysteria. It controls epilepsy, mental disorders. It relieves stress and anxiety.Jatamansi is a special rare herb to keep the mind cool and relieve stress naturally.