Ayurveda - God's
|
View Details
Herbal Cure for Backache - Complete Herbal and Vegetarian
Herbal Cure for Backache - Ayurvedic Medicines-Natural Treatment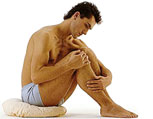 Backache is very common these days. It has become an occupational hazard in many different kinds of work. People may pull or strain their back muscles while living a heavy load or while sitting at a desk in front of a computer. Emotional factors can also lead to back pain, as can injuries, such as from a car accident. Some people may even have a slipped disk, which can lead to severe back pain. Whatever the cause of your back­ache, the following natural Ayurvedic home remedies will be helpful.
The 'Joint Aid Plus' contains herbs that has 'anti-vata' properties and also good for rejuvenation. This helps to relieve the pain and also increases the blood supply to the muscles and nerves supporting the bones. This herbal medicine pacifies the pain as well as maintains the bone health. The key ingredients present in it acts as anti-inflammatory, anti- arthritic and is useful especially in relieving backache.
Herbal Cure Pack for Backache
Joint Aid Plus
Ashwagandha
Guggul
$22.95
1 Bottle
$ 31.00
2 Bottles
$41.00
2 Bottles

Total price = $ 94.95

Total price after discount = $ 90.00

Buy 60 days herbal pack supply = $ 180.00

Buy 90 days herbal pack supply = $ 270.00

No side effects! Free Shipping and Handling Worldwide!
The above pack is for 30 days. Following is the dosage details:
Joint Aid Plus : 2 capsules twice daily after food with plain water.
Ashwagandha : 2 capsules twice daily after food with plain water.
Guggul : 2 capsules twice daily with plain water before food.
Herbal Remedies
Take yogaraj guggulu, 1 tablet 3 times a day, or 1 tablet of kaishore guggulu 2 or 3 times a day. Both of these special Ayurvedic formulas are available at our herbal tablets section.
Backache can also be relieved by the use of the herbal formula- Arthtiris support, which is a muscle pain­killer and relaxant.. Take 1 to 2 capsules 2 or 3 times a day with warm water.
The herbs tagara or valerian and Ashwagandha are muscle relaxants These herbs are present in our Stress Support formula. Taking 1-2 capsules with some warm water will relax the muscles that may be causing back pain. It will also help induce restful sleep.
Most back pain can be effectively treated with these herbs, but a ruptured or slipped disk often requires intensive medical care.
Rub In Some Oil
Rubbing the painful area of the back with mahanarayan oil is also effective for relieving the pain. Vata and pitta types should just rub the oil on the surface, while kapha types should give a deeper massage to the area for some time. Alternatively, try this procedure: Apply a paste made of ginger powder mixed with sufficient water to the affected area. Leave it on for 10 to 15 minutes, wash it off, and then rub the back with some eucalyptus oil.
Take a hot herbalized bath
For extra healing and muscle relaxation, apply the mahanarayan oil ( Can order us through e mail) on your back and then follow with a hot bath in which you put some ginger powder and baking soda (1/3 cup of each Soak in the tub for 10 to 15 minutes. You may repeat this bath 2 or 3 times a week perhaps on Tuesday, Thursday, and Saturday.
An enema can help
Individuals who suffer from backache often get constipated, and It may be difficult to tell which is the effect and which is the cause. The backache may be due to chronic constipation, or the spasming muscles and anxiety caused by the back pain may induce constipation. In either case, a I simple enema of dashamoola tea will help.
Boil 1 tablespoon of dashamoola powder in a pint of water for about 5 minutes, Cool it down, and add 1/2 cup sesame oil. When it is cool enough, use it as an enema, retaining the liquid for 5 to 10 minutes if you can. A. dashamoola-sesame oil enema is soothing to vata and will help relieve both the constipation.and the pain. Herbal formualtions like Triphala capsules or Vara Churna can be useful in relieving constipation naturally. Kumari Saar can also be used.
Gentle stretches
Some gentle yoga exer­cises can help with back pain.
Important:All yoga postures should be learned with a trained yoga teacher, but especially when you have a backache, you should not do any yoga postures without expert guidance. This is especially true if your pain comes from a slipped disc.
In general, the following postures may be helpful:
Camel pose
Cow pose
Spinal Twist
Locust pose
Lotus pose
Forward Bend
Palm Tree pose
gentle, modified Fish pose
All these postures may be used both as a pre­ventive measure and to help remedy back pain. But again, be sure to get advice from a trained teacher.
MORE TIPS TO HELP HEAL BACKACHE
Backache is often due to excess vata, so it is helpful to reduce your consumption of vata.increasing foods. Avoid most beans, including black beans, pinto beans, adzuki beans, and garbanzo beans. Avoid raw, cold salads.
Avoid exposure to cold weather or cold winds.
Sit quietly and meditate, or observe your breathing. This will help relax tense muscles.
Don't walk in high-heeled shoes.
Don't try to do jogging, jumping, or other strenuous exercise; rather, do some gentle yoga stretching as mentioned above.
Sexual activity should be minimized.
Following these guidelines will help you heal your aching back as well as avoid back pain in the future.
Natural Products for Backache, Backache Natural Remedies, Herbal Remedies for Back Pain